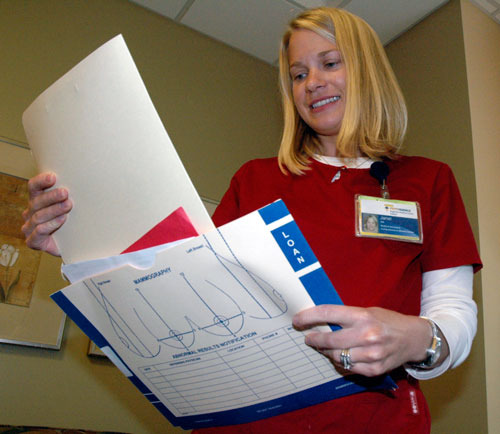 Source: The Marysville Globe
EVERETT — While a number of other health agencies throughout Snohomish County are able to specialize in diagnosing and treating certain parts of breast cancer, many of them refer their support services to the Providence Regional Cancer Partnership.
Mary Gallagher and Nicola Mucci, who work in patient support services at the Providence Regional Cancer Partnership, noted that Providence provides not only diagnostic services, surgery, chemotherapy and radiation, but also support services such as counseling, support groups, massage, acupuncture, yoga and dietician services. Many of these services are integrated to ensure that Providence is caring for patients' minds and bodies at the same time.
"Patient support services offer a more holistic approach to health care," Mucci said. "Patients can work with our teams and take advantage of our resources to address the emotional aspects of what they're going through."
"Relationships have become a focus for us lately," Gallagher said. "We're looking at how women with breast cancer and their families are adapting to the new circumstances that they're all facing, the patients and their loved ones alike. How do they deal with these new emotions?"
Mucci explained that, because there is such a wide variety of experiences that cancer patients and their families can face, Providence's menu of support groups includes not only a general cancer survivors group, but also therapy groups, groups for patients in the advanced stages of cancer, two groups for breast cancer patients — one set aside specifically for younger patients — and a support group for cancer survivors.
"Younger breast cancer patients are going to be facing issues that are less relevant to women who are 45 years and older," Mucci said. "Younger women need to know how to deal with breast cancer when they still have young children at home, and how to balance their family, career and health concerns. There are also going to be issues tied to sexuality and intimacy with their partners, as well as the shock of being diagnosed with breast cancer at a younger age."
Mucci added that, regardless of whether the support groups are specific to younger or older cancer patients, family members are always welcome to attend, and indeed, Gallagher pointed out that many aspects of cancer impact the patients' families as hard as the patients themselves.
"The idea is to let patients know that they have that emotional support at every stage of their journeys," Gallagher said. "At the same time, we try to help those patients' caregivers manage their own stress levels. Simple tasks such as balancing the checkbook and doing the laundry become much more challenging when they're undergoing treatment, so especially if the caregivers are the adult children of the patients, they need to learn to be patient with their parents."
Between scheduling appointments, providing transportation, picking up medications and running errands such as grocery shopping for their loved ones, Gallagher estimated that caregivers can easily find themselves saddled with an extra 20 hours of work per week.
"To keep them from overextending themselves and burning out, we teach them how to 'Share the Care,'" Gallagher said. "If they can get help from their own families and friends, and disperse those tasks, it lightens the load on everyone."
Caregivers have more than one support group devoted to their needs at Providence, with one group addressing the concerns of individual caregivers, while the "Share the Care" support group is tailored toward those who act as caregivers to cancer patients in groups. While the individual caregiver support group teaches caregivers how to take care of themselves in addition to seeing to those with cancer, the "Share the Care" support group trains groups on how to give care to cancer patients as teams.
"What's new in how we're helping caregivers is that we're acknowledging that everyone in the family is affected by cancer, not just the patient," Mucci said.
"The family is the patient," Gallagher said. "Patients who are used to living independent, private lives need to learn how to open up to others. At the same time, they need to have self-esteem and feel good about themselves. The mind and the body are so interwoven that we can experience stresses as physical sensations."
The Providence Regional Cancer Partnership's scope of programs related to patients' well-being is also expansive enough to include social workers, financial management, childcare, elder care, chaplains and psychologists.
The Providence Regional Cancer Partnership is located at 1717 13th St. in Everett. For more information, log onto www.cancerpartnership.org.