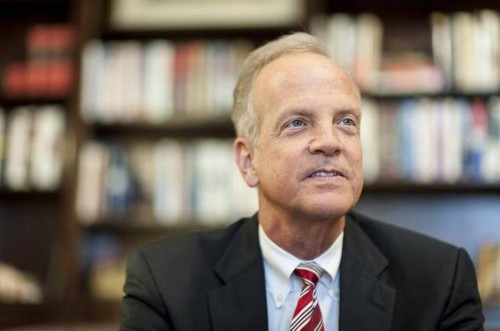 By Bryan Lowry, The Wichita Eagle
U.S. Sen. Jerry Moran has nearly $30,000 from 12 different American Indian tribes since January in support of his re-election bid.
Moran, a Hays Republican who was first elected to the U.S. Senate in 2010, received $1.43 million from January through June for his re-election campaign, according to his most recent filing with the Federal Election Commission. So far $1,000 of that has come from Kansas' Prairie Band Potawatomi Nation.
Moran has also received money from Oklahoma's Chickasaw Nation; Louisiana's Tunica-Biloxi Tribe; Washington State's Puyallup Tribe of Indians, Snoqualmie Tribe and Lummi Indian Business Council; Arizona's Gila River Indian Community; California's Pechanga Band of Luiseno Indians, Yocha Dehe Wintun Nation and Shingle Springs Band Miwok Indians; Alabama's Poarch Band of Creek Indians; and New York's Seneca Nation of Indians.
The donations from the various tribes add up to $29,700.
The support from the tribes shouldn't come as a surprise. Moran, a member of the Senate Committee on Indian Affairs, has championed legislation to strengthen the autonomy of tribal governments in recent years.
He co-sponsored the Tribal General Welfare Exclusion Act, which broadened tax exemptions for tribes and was signed into law in 2014. He has also sponsored and pushed for the Tribal Labor Sovereignty Act, which would have exempted tribal governments from the National Labor Relations Act.
"These Native American tribes are part of a diverse group of individuals and organizations who support Senator Moran – including Kansans in each of our state's 105 counties," Moran for Kansas spokeswoman Elizabeth Patton said in an e-mailed statement.
Moran has also received money from Kansas born billionaire Phillip Anschutz and his wife, Nancy, for $2,700 each. Anschutz, a native of Russell and alum of the University of Kansas, helped found Major League Soccer.
Charles Koch, CEO of Koch Industries, gave Moran $2,700. His son, Chase Koch, president of Koch Fertilizer, and Chase's wife, Anna, also each gave Moran $2,700.
Moran's most recent report also includes contributions from state Rep. Mark Hutton, R-Wichita, who gave $2,700, and Kansas Secretary of Wildlife, Parks and Tourism Robin Jennison, who gave $1,000.
Read more here: http://www.kansas.com/news/politics-government/prairie-politics/article27927961.html#storylink=cpy