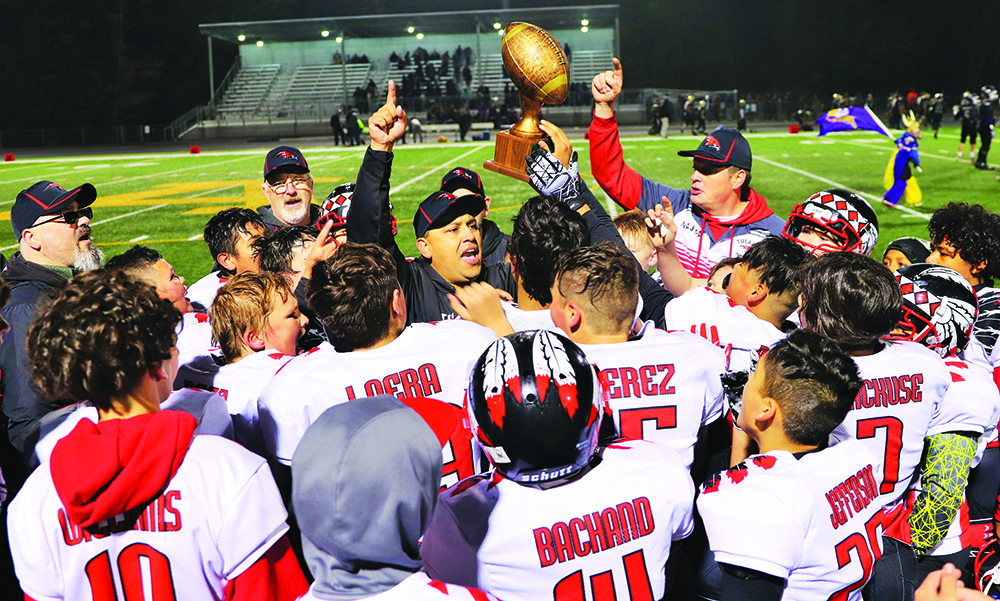 By Micheal Rios, Tulalip News 
The North Sound Junior Football League is the most competitive and officially coordinated league in the area for youth eager to showcase their skills on the gridiron. This season North Sound welcomed five new teams into the league; Pee-Wees, 89ers, Juniors, Bantam, and Seniors all proudly represented the Tulalip Hawks program over the last several months. 
The Bantam (12-u) team, coached by tribal member James Madison, separated themselves from all other teams thanks in part to an explosive offensive and lockdown defense. Loaded with talented, young Tulalip athletes, the Junior Hawks Bantam squad had Championship or bust expectations from the get-go. 
"Our kids are out here representing Tulalip the best way they can," said Coach Madison prior to the season opener's kick-off. "They all know each other, most are family, and they get out on the field and just play hard. We know, as a program, we're brand new but we're determined to show every week that we're Tulalip and proud of it. These kids have set a goal from day one to win a championship, and we expect to do just that."
With lofty expectations, this group of youngsters played at a championship level by steam-rolling their competition week after week. During the regular season, they routinely exploited defenses with their overpowering running game, while stifling their opponents' best players. Producing blowout victory after blowout victory, these Junior Hawks outshined everyone in the Bantam division.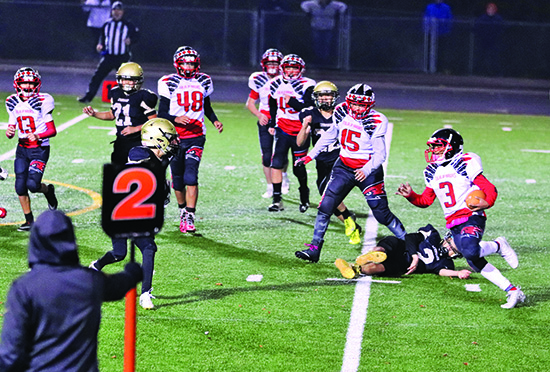 Going into the postseason they averaged 40.8 points on offense, while giving up just 5.1 points on defense. That whopping margin of victory increased after a 50-0 victory in their 1st round playoff game, followed by a 40-0 win in the semi-finals. The pair of playoff Ws setup the North Sound championship game between the Tulalip Hawks vs. Lynnwood Royals on Saturday, November 10 at Arlington High School.
The kick-off temperature was around 40 degrees, which made the 200+ fans in the stands layer up with winter coats and blankets galore. But on the field, the boys' blood was running hot with excitement knowing they were just one more victory away from reaching their championship goal. 
In the opening quarter, Tulalip scored first when running back Gio Hernandez took a direct snap from center and scored on a 25-yard run. Lynnwood quickly countered with a score of their own, which Tulalip then topped with another Gio touchdown, this time off a 38-yard run and score. 
Lynnwood again matched the Junior Hawks with a running touchdown of their own, marking the first time since their first game of the season that Tulalip gave up multiple scores to their opponent. It was obvious that Lynnwood had brought their A-game and Tulalip would have to take their play to another level in order to win.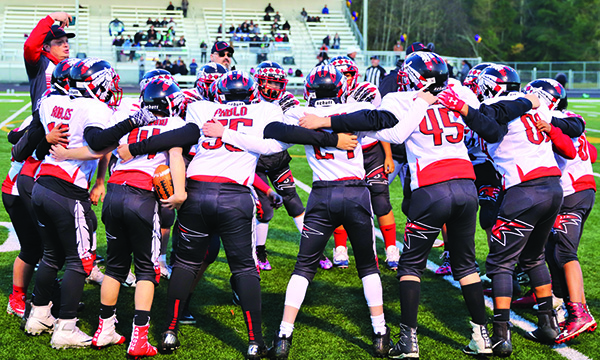 Midway through the 2nd quarter, running back Gaylan Gray added to his highlight reel with 37-yard touchdown run that included a sweet spin-move to break a tackle. The touchdown put Tulalip up 19-13 going into halftime.
To start the 2nd half, Tulalip coaches watched from the sidelines as Lynnwood was again moving the ball well against their defense. The Royals tied the game at 19-19 after a punch in from the 1-yard line. The game tightened up from that point, with both teams' defenses coming up with multiple 4th down stops. The score remained 19-19 for the remainder of the 3rd quarter and most of the 4th. 
With only minutes left in the title game, Tulalip marched down the field with an impressive drive. Lynnwood's defense finally buckled when running back Gaylan took a 14-yard hand off to the left sideline, broke two tackles and dove towards pay dirt. His touchdown put Tulalip up 26-19 with three minutes left to play. The Junior Hawks defense came up huge on Lynnwood's subsequent drive when they forced a fumble and several Tulalip defenders jumped on the loose ball.
With the ball back in the hands of their explosive offense, the Junior Hawks iced the game with another direct snap to their running back. Once again it was to Gaylan who followed his blockers up the right sideline for a 29-yard score. With a mighty 32-19 advantage and just two minutes remaining the game was all but over. Moments later, a pair of quarterback sacks by Gio and Ryelon Zackuse sealed the Junior Hawks victory. Tulalip had achieved their preseason goal and was crowned North Sound division Champions!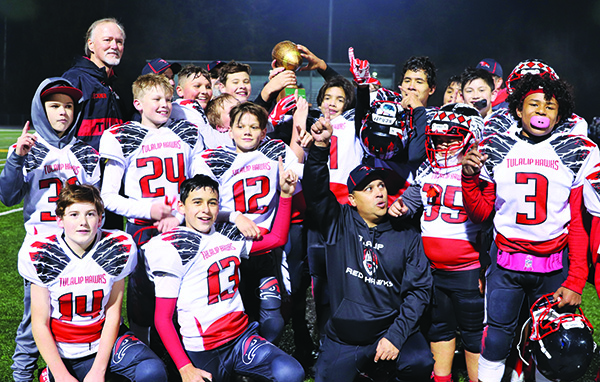 "The 1st half was a real battle between two good teams. When we were tied up, the coaches kept telling us to keep playing hard and stick to the game plan," reflected 12-year-old Gio following his two-touchdown game. "In the 2nd half our defense really stepped up and set the tone, which got us fired up on offense."
"Last time we played Lynnwood we shut them down, so we were surprised they played so well to start the game," added Gaylan, who also scored two touchdowns. "But we came together as a team during halftime and hyped each other up. It was a great game and I feel really good because this is my first football championship."
Looking forward, the Champions from Tulalip will be playing in a Northwest Regionals tournament Thanksgiving weekend. That will be their final test before they travel to Canton, Ohio where they've been invited to play in the Pro Football Hall of Fame's World Youth Championship. This is a once in a lifetime experience for these boys who are making memories they'll never forget.