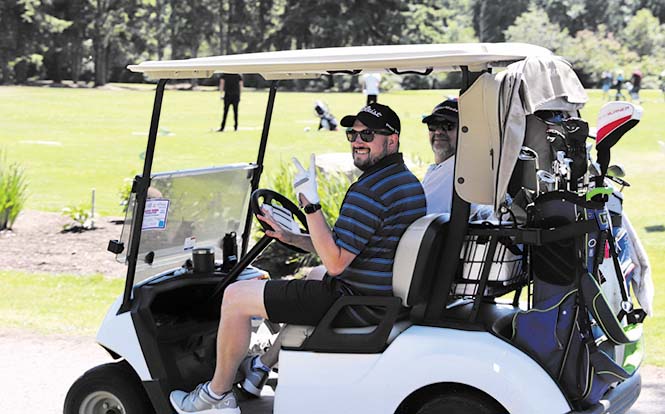 By Kalvin Valdillez, Tulalip News
It was clear skies, 80-degree weather with an occasional breeze, on the afternoon of July 17. A perfect summer day to spend outdoors, and for golfers specifically, a great day to hit the links. The scenery at the Battle Creek Golf Course was remarkably gorgeous, with tall evergreens lining the fairways.
Just a day prior, young Leah Stacy took a journey through the course with her family, posting-up signs that read either the name of a local business, individual or family who signed-on to be a sponsor for the 7th annual Golf Tournament hosted by none other than Leah's Dream Foundation.
"We really believe in inclusion," said Leah's mother and Founder of Leah's Dream, Deanna Sheldon. "My daughter has apraxia so she doesn't speak very well. She has very slow speech and her speech is often combined together so you can't really understand what she's saying. A lot of [people] overlook that and put a lot of judgements and biases on her. But once they see past the fact that she has apraxia and she does have autism, they see she's this beautiful little girl who is just radiant and wants to be loved and accepted. It opens up their eyes because we do live in a labeled-world, but we have to embrace each other for everyone's abilities and hopefully one day all that other stuff will be eliminated."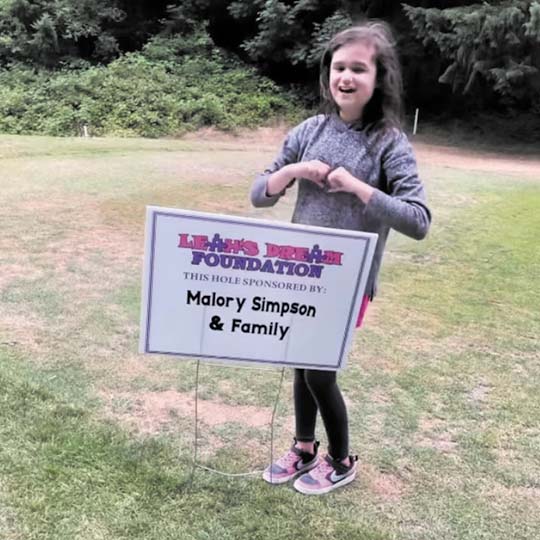 After putting the sponsorship signs throughout the Battle Creek course, Leah shared a video to the non-profit's Facebook account; a cute message to everyone participating in the event stating, "Thank you for playing and sponsoring," while she wore a huge smile.
While advocating for inclusion, promoting awareness about autism and raising funds to support the local special needs community, 30 teams of four, 120 golfers total, drove, chipped and putted the 18-hole course that Saturday afternoon. Participants also had the chance to take-part in a 50/50 raffle, as well as try their hand at a number of fun mini-challenges at certain holes throughout the day.
Cheers, oohs and ahhs, could be heard at any given green during the event. The tournament was open to all ages and skill level. While Tulalip Board of Director Mel Sheldon and Leah's grandpa, Ray Sheldon Jr., made impressive long putts on a Par 3, a golfing family of four, JT and Dinesha Kane, and their kiddos Brodie and Braiden, were on the opposite green visibly and audibly excited about how close they each shot their ball to the pin. And shortly after that, Tulalip BOD, Misty Napeahi shot a birdie at the same Par 3 that Ray and Mel had good luck at as well.
"My husband is the head pro here," said Deanna, "And Leah's so funny, we call her the 'Queen of the Creek' because she loves Battle Creek. This is our 7th year doing the golf tournament. Our first year we had about half as many players, not very many sponsors and each year it has grown. This year, we finally had a full 30 teams, 120 players, 45-50 sponsors. This is our one and only fundraiser and we want people to have fun and to come back next year. Everything that we raise goes right back into our community."
Founded in 2015, Leah's Dream has become well-known in the Tulalip and Marysville communities. The charitable foundation is dedicated to empowering children and young adults diagnosed with autism. By hosting events and get-togethers for the local youth living with disabilities and their families, the organization provides a safe space where the kids can simply be themselves and build friendships within the special needs community.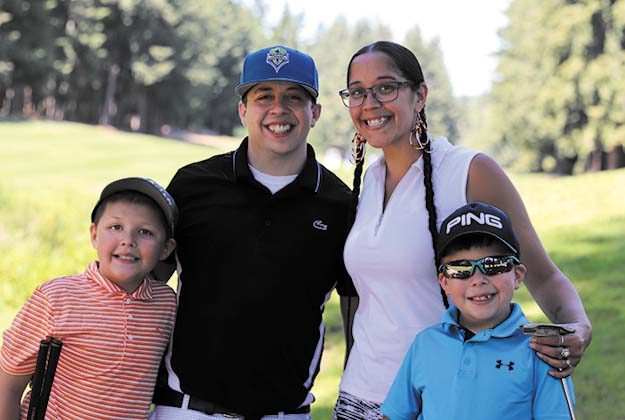 "We started Leah's Dream because all of us, the three sisters, have children on the spectrum. We started out family-focused, but we really wanted to branch out and help our community and raise awareness," Deanna explained. "A lot of children don't feel like they can be themselves in a neurotypical setting, but they are usually comfortable and eager to go to our events because they know this is their family, this is their friends, this is the community. Ultimately, the goal is to build-up and bring-up a community and have this sense of awareness and unity. It's a chance for parents who wouldn't generally see each other to get to know each other better."
Leah's Dream Foundation Board Member, Amy Sheldon added, "We hold events usually at one of the high schools in town and all the families through the Marysville School District (MSD) can come and bring their kids and it's all free. They get free food, we do tons of arts and crafts and open-mic signing. For Christmas, we have Santa come to give-out gifts. We usually do those events every couple of months because the kids look forward to it."
Unfortunately, because of the COVID-19 pandemic, the bi-monthly gatherings have been put on a temporary hiatus. Amy, who is also a MSD Special Needs Liaison, said she still speaks to many of the kids who regularly attended the Leah's Dream Foundation events and they constantly ask her, 'when's the next Leah's party?' Reassuring the community, she was quick to answer that question stating, "We just need approval for a facility to have it. Once we can get that, we will have our next party."
Although they can no longer hold their in-person events, Leah's Dream continues to find ways to promote awareness and inclusion, namely by distributing gift bags and activity kits filled with sensory items and toys to those MSD students and local youth living with special needs.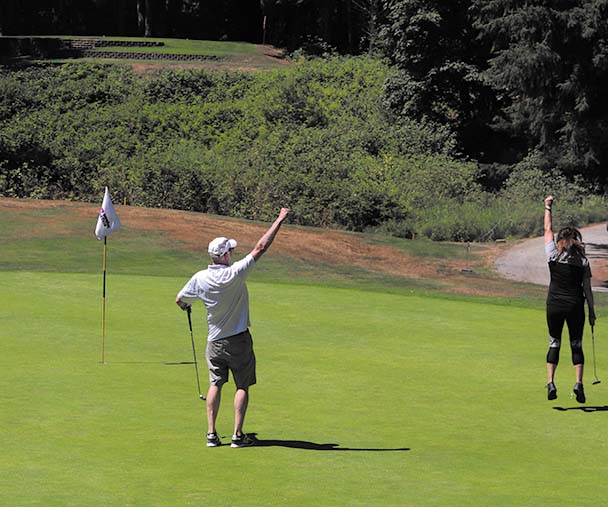 The funds for all the events, activities, gift bags and sensory kits are made possible by the annual golf tournament. And since the events are canceled for the time being, the foundation used last year's donation to purchase a new reading curriculum for Marysville Pilchuck High School, as well as many items off a 'wish list' put together by the school district's occupational therapists and speech therapists, helping students who are on the spectrum at schools such as the Betty J. Taylor Early Learning Academy and Kellogg-Marsh Elementary.
Deanna and Amy explained that typically, after the tournament, the foundation holds a silent auction. However, due to COVID, the foundation wanted to focus all their efforts on hosting a safe tournament this year and decided to hold the silent auction on a date yet-to-be-announced, possibly as early as this upcoming November.
For more information, be sure to like and follow the Leah's Dream Foundation Facebook page and check out their website at LeahsDream.org
After a busy weekend Leah and her mom shared two more updates via the foundation's Facebook. The first informed everybody that they surpassed this year's goal, raising approximately $35,500. The second was a short video clip of Leah posing next to one of the sponsor signs while making a heart-shape with her hands and saying "I love you" to everyone who had a hand in making the fundraiser a success, and of course to all of her friends and family in the local special needs community – everyone who is a part of Leah's Dream.