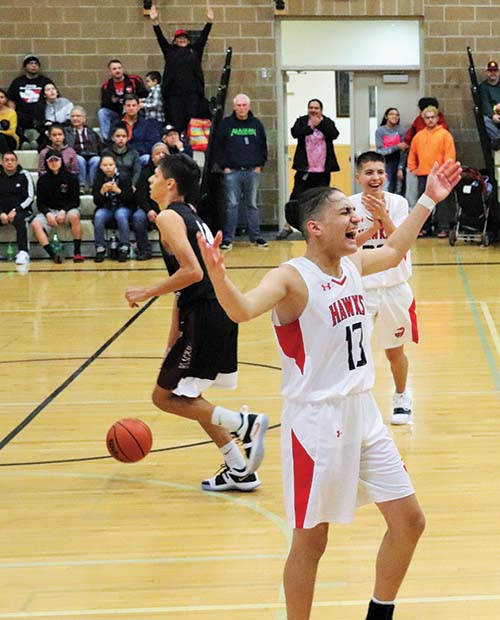 By Micheal Rios, Tulalip News 
Buckets, buckets and more buckets. The Tulalip Heritage boys' basketball team exceeded expectations last year by advancing all the way to the State tournament in Spokane. This season, with nearly every player returning and joined by several talented playmakers, the expectations are not only to get back to State, but to win-out this time and earn the coveted title of State Champion. 
In the early stages of the 2018-2019 season, the Heritage boys are displaying a level of play that warrants such lofty expectations. In their season opener, they made quick work of Shoreline Christian by playing at a scorching offensive pace that resulted in an 80-27 win. Heritage newcomer, sophomore guard Leno Vela scored a game-high 22 points, Alonzo Jones added 17 points and Isaac Comenote chipped in 14 points.
Two day later they didn't shoot the ball nearly as well, but still easily outpaced Concrete, 58-22. Alonzo led the team with 17 points, while Isaac added 12 points.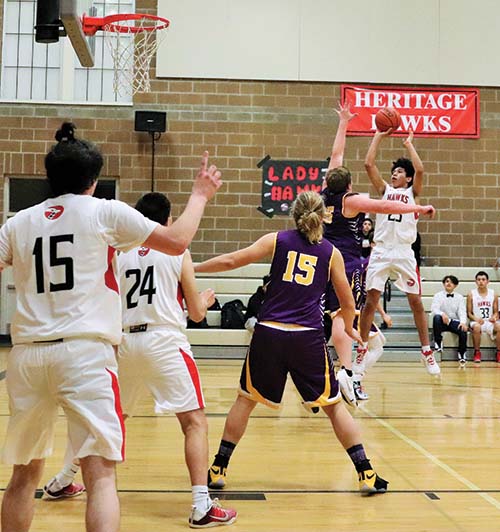 With four days off between games, the team not only got in quality practice time but also saw their already deep roster get deeper with the return of guard Josh Iukes and forward Sam Fryberg. 
Providence Classical Christian had no idea what was in store for them, as the Hawks put on an offensive clinic on Tuesday, December 4. The boys drained 3-ball after 3-ball when they weren't scoring easily at the rim. Tulalip finished only points shy of hitting the century mark in the blowout, winning 94-14. The scoring touch carried over days later when the Hawks traveled to Lopez Island and put a hurting on the Lobos. Behind a high octane offense, the boys cruised to a 92-45 victory. 
Undefeated at (4-0), the Heritage buzz was growing in anticipation of the always competitive rivalry game with the (2-0) Lummi Nation Blackhawks played on Saturday, December 8. Francy J. Sheldon gymnasium was jam-packed with spectators and rowdy fans representing both teams. 
In the opening minutes, the Hawks found themselves in an unfamiliar position as they trailed 0-6. They responded by finishing the 1st quarter on a 23-9 run behind timely outside shooting by Isaac and Sam Fryberg bulling defenders in the post.  As they often do, Tulalip and Lummi both raised their play especially on the defensive side to tighten the game through the 2nd and 3rd quarters.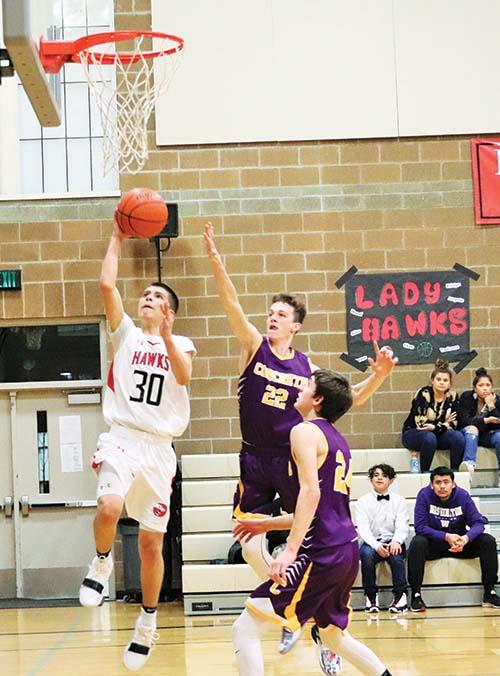 With four-minutes to go in the 4th quarter, the Hawks had a slim 63-60 lead. Chants of "Tulalip power!" echoed through the gym as the home crowd did their best to pump up their Heritage team. The boys responded by finishing the game on impressive 12-6 run fueled by a series of made jumpers by the team's go to one-on-one scorers, Alonzo and Leno.
The decisive run sealed a 75-66 win over a quality Lummi team and kept the Hawks' undefeated record intact. Leno had a game-high 18 points, while Alonzo and Isaac scored 14 points each. 
At (5-0), Tulalip has soared over all their opponents thus far by making full use of their roster's rare combination of speed, shooting and pure athleticism. Their blistering pace has made it extremely difficult for teams to keep up with, let alone make it a close game. Through their first five games, the Hawks are scoring 80 points per game while only giving up a measly 35 per to their opponents. That differential makes for a whopping 45 point average margin of victory, domination at its finest.