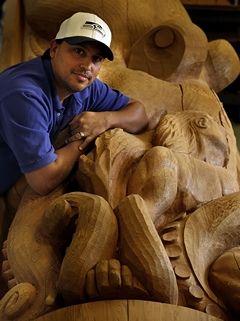 By Gale Fiege, The Herald
Computers, scanners and other bits of high tech play a part in what is produced at the studio of famed Tulalip Tribes artist James Madison.
At the heart of his carvings, paintings, glass and metal sculptures, however, is what Madison learned as a boy sitting at his grandfather's kitchen table — the way to hold an adze, respect for Coast Salish and Tlingit cultural traditions, a good work ethic and an appreciation for beauty.
"Everything my grandpa knew, he taught me and my cousin, Steven. He was grooming us to carry on," said Madison, now 40. "He taught us the stories and their messages, and how to carve. It was like learning to walk. It was just something that happened naturally."
Madison's artwork is displayed locally and throughout the state and country. It even has been featured on the TV show "Grey's Anatomy."
Named Snohomish County's 2013 Artist of the Year by the Schack Arts Center, Madison is busy this week putting up a show at the Russell Day Gallery at Everett Community College.
"Generations 2," which includes work by Madison, his grandfather, father, uncle, cousin and young sons, opens Feb. 10, with a reception set for 6 p.m. Feb. 13 at the college gallery. It will be exhibited through March 14. A previous show, "Generations," also included artwork by family members.
"The show pays respect to the people who taught me and gave me the tools I use today," Madison said.
Madison's sculptural work can be seen on Colby Avenue in downtown Everett, on the community college campus, on the Tulalip reservation and in the form of a bronze husky in front of the University of Washington football stadium.
"That sculpture was important to me because football has always been a part of my life, too," he said.
One of Madison's major works is the 24-foot story pole in the hotel lobby at the Tulalip Resort and Casino. His sculptures also can be seen at the Hibulb Cultural Center, in Cabela's at the Tulalip shopping mall, at Lighthouse Park in Mukilteo, Kayak Point County Park, Providence hospital, the Burke Museum and in the cities of Stanwood, Marysville, Shoreline, Whistler and New York.
Along with learning traditional arts, Madison was still a child when his father was attending art school and learning about abstract painting.
"Dad gave me the fine arts side," Madison said. "It gave me the means to take what I do and give it a modern twist."
After graduating from Everett High School and Everett Community College, Madison earned a degree in fine arts from the University of Washington.
"I am in a position now to publicly express our history to non-Indians, so they can know who we are," Madison said. "I am trying to do my best to keep our culture alive. I bring my sons with me as much as I can, so they can learn in the same manner I did."
Among other things, Madison currently is working on another story pole. It is being carved from the same 998-year-old, 135-foot cedar log — a blow-down from the Mount Baker-Snoqualmie National Forest — that was used for the story pole at the Tulalip Resort.
Looking around his warehouse-sized studio, Madison said sometimes his success feels "surreal."
"This is a dream come true for all of us," he said, motioning to friends and relatives working nearby.
"Being named artist of the year last February, at age 39, made me proud of all of our hard work. It was an accolade that gave me satisfaction and made me feel that it is possible to do anything.
"I push myself because that is how I was raised. And the more I do, the more I can acknowledge my people and my family."
"Generations 2" also will include the work of the late Frank Madison Sr., Steve Madison, Frank Madison, Steven Madison and James Madison's sons, Jayden, 8, and Jevin, 6.
The Russell Day Gallery, 2000 Tower St., is open from 10 a.m. to 5:30 p.m. Mondays and Wednesdays, noon to 4 p.m. Tuesdays and Thursdays and 10 a.m. to 2 p.m. Fridays.