By Micheal Rios, Tulalip News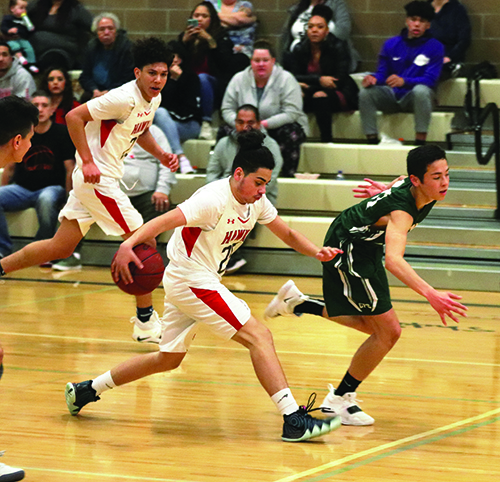 Opening round: Hawks tame Cedar Park Lions, 52-32.
The Heritage Hawks boys basketball team steamrolled through the regular season and finished with an impressive (17-2) record. A high-octane offense averaged 74 points per game while a stingy defense only allowed 42 points to opponents, for a whopping average margin of victory of 30+ points. Prior to the season, these boys had one mission: win a State title. Nineteen regular season games later the mission remained unchanged.
District playoffs kicked off on Thursday, January 31. Heritage's regular season performance earned them a #2 seed and with it came the rights to host an opening round playoff game at Francy J. Sheldon gymnasium. Their opponent was the Lions of Cedar Park Christian. In their two previous meetings, Tulalip won both easily by 20+ points.
In front of an energetic home crowd, Heritage sputtered on offense to start. Midway through the 1st quarter Tulalip had yet to score and trailed 0-5. Coach Cyrus "Bubba" Fryberg called a timeout to light the fuse of urgency for his explosive team of young gunners. Did they respond? Most certainly.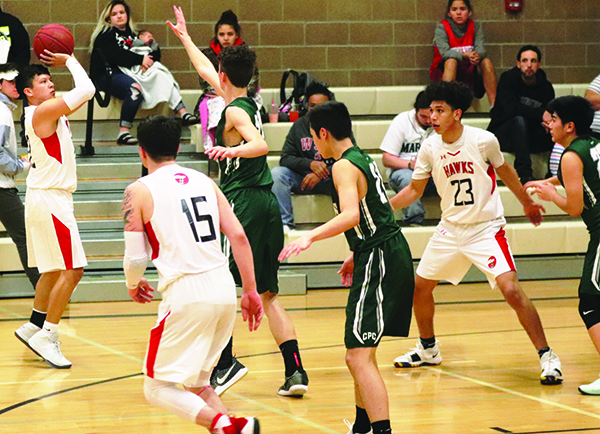 The Hawks locked in, took complete control of the playoff game, and went on decisive 26-2 scoring run spanning late in the 2nd quarter. From trailing 0-5 to leading 26-7, the home team gave their crowd much to cheer for. Junior guard Leno Vela led the charge with his combination of dead-eye perimeter shooting and ball pressure yielding steal after steal. Tulalip took a 28-12 lead into halftime.
In the 2nd half, the rout continued. Heritage held the Lions to only 6 points in the 3rd quarter while both Joshes, Iukes and Miranda, added to Tulalip's scoring barrage from 3-point land.  Entering the 4th quarter, the boys had their largest lead of the game up 23 points, 41-18.
With the outcome only a formality Coach Bubba inserted his bench players to finish the game. The Hawks starters cheered from the bench as everyone celebrated the 52-32 victory.
Leno led all scorers with 13 points and 6 steals. Josh Miranda added 12 points, while Rodney Barber collected a game-high 10 rebounds.
Championship round: Lummi Nation keeps Hawks grounded, 64-77.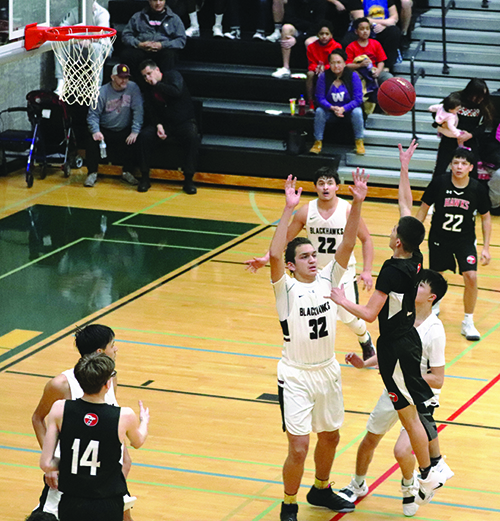 Following their opening round win, the Tulalip Hawks had two days to prepare for the much anticipated District Championship game versus Lummi Nation. These two teams were clearly the best of the Northwest 1B league and had split their two regular season matchups. Tulalip won by 9 points back on December 8, but Lummi won by 3 points just two weeks ago on January 15. Both teams entered the game riding winning streaks, four straight Ws for Tulalip and an eye-popping nineteen consecutive wins for Lummi.
Being the Championship round, the game was held at the much larger venue of Marysville-Getchell High School on Saturday, January 2. Fans of both teams flooded the gymnasium and packed the bleachers for a lively atmosphere befitting a battle of two highly touted tribal teams.
In the 1st quarter, both teams traded early baskets notching the score at 5-5. Then Lummi clamped down on defense, leaving Tulalip reeling. Lummi came up with two big blocks and several steals that they turned into easy transition buckets. Meanwhile the Hawks offense couldn't muster any rhythm, which led to an 8-21 deficit after the opening period.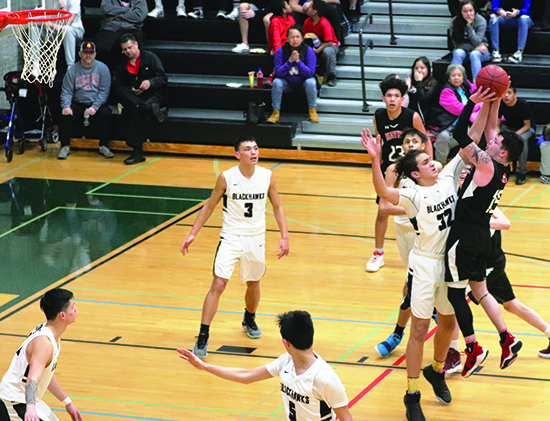 The Hawks trailed by double digits for most of the game. Early in the 3rd quarter, senior guard Paul Shay, Jr. kept the Hawks offense afloat by continually attacking the basket and drawing contact to get to the free-throw line. In fact, Jr. took eleven free-throws and connected on eight of them. When Isaac Comenote finally found a rhythm and hit back-to-back 3 pointers, Tulalip cut their deficit to just 9 points, 34-43 midway through the 3rd.
To their credit, every time it looked like Tulalip was getting momentum, Lummi responded with a bigger scoring run of their own. Whether it was inside with their post players or hot outside shooting, they always had an answer and pushed their lead back to double digits. Heritage trailed 36-52 at the end of the 3rd quarter en route to a 64-77 loss. Lummi's 77 points was the most Tulalip had given up all season.
Paul Shay, Jr. led the Hawks with 19 points, while Alonzo Jones added 11 points and 9 rebounds.  It was a disappointing loss in front of a packed gym, but even so Tulalip still placed 2nd in the tournament and earned the right to host an upcoming Tri-District Tournament game. The time and opponent is to be determined. However, we do know the game will be played on Saturday, February 9 at Heritage High School.