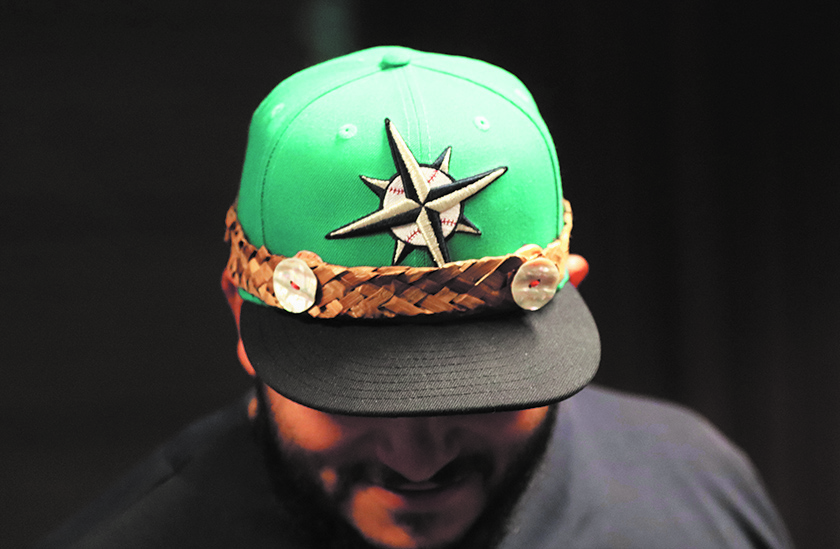 By Micheal Rios, Tulalip News
The annual Salute to Native American Night hosted by the Seattle Mariners was a great success, once again. So many proud Natives from across the Pacific Northwest journeyed to T-Mobile Park on August 23 to celebrate the Puyallup Tribe canoe family as they shared their songs and dance on the immaculate baseball field.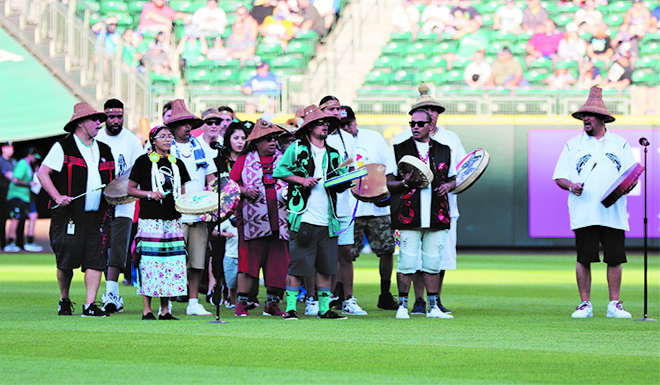 "This event gives us an opportunity to build our tribal community and develop must-needed awareness for the thousands of non-Natives in attendance. For many of them, this is may be their first time witnessing our songs and dance or have the opportunity to have a conversation with an actual tribal member of one of the surrounding Tribes," shared Puyallup Tribe culture director and elder, Connie McCloud.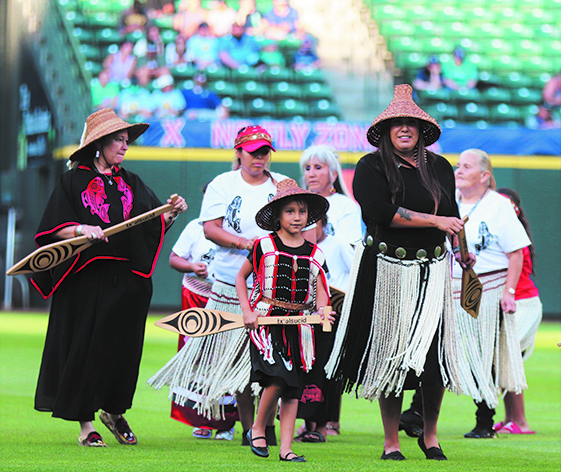 "We had so many of our people join the canoe family in the last year or so that we were really excited for just how many we'd have potentially for this special presentation," she continued. "We had between 100 to 125 show up to the stadium. During practice we gave regalia to those who didn't have any. There was such a huge sense of pride from knowing we are representing our Tribe, our families, and our community in such a good, positive way. And to do this in front of such a large audience only reaffirms the power of our culture and traditional teachings to the young ones. They are growing up in an era where they can truly embrace their culture and not be afraid to wear traditional clothing and ceremonial items in public."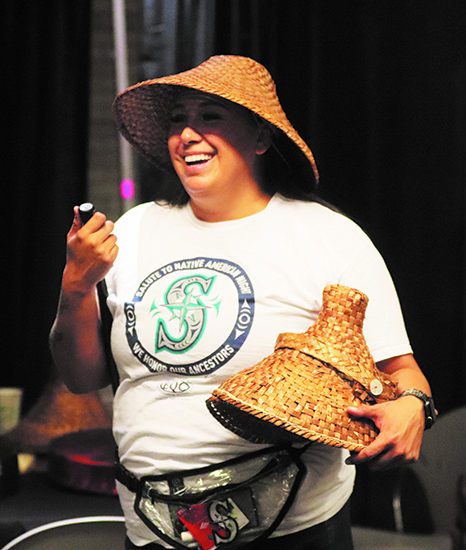 Official attendance of the Tuesday night game was a whopping 38,254 fans. Amongst that huge number was an estimated 200 Tulalips, many of whom were gifted free tickets and bussed to the game as one of our youth enrichment program's summer activities.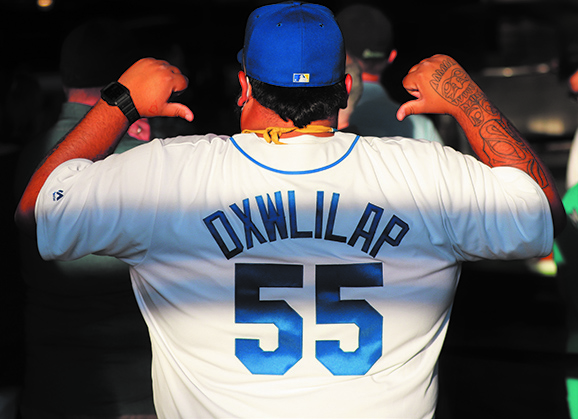 On the field pre-game with the Puyallup canoe family was powwow circuit legend and Tulalip's own Jobey Williams. He was accompanied by his 4-year-old son Dahnahhi as they both pounded their circular hand drums and sang in unison with their Puyallup brothers and sisters.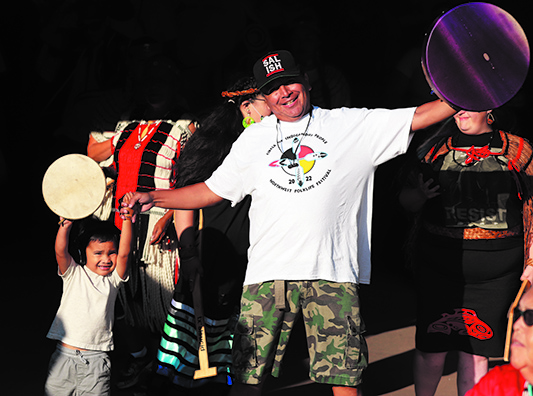 "First, I'd like to say just how appreciative I am for Puyallup to call and offer me and my son the opportunity to drum and sing with their canoe family," said Jobey. "As Native people, we share the same spirit. Even if our songs and dance vary from tribe to tribe and region to region, the same spirit powers us all. To share in that moment with our neighbors from Puyallup was so amazing.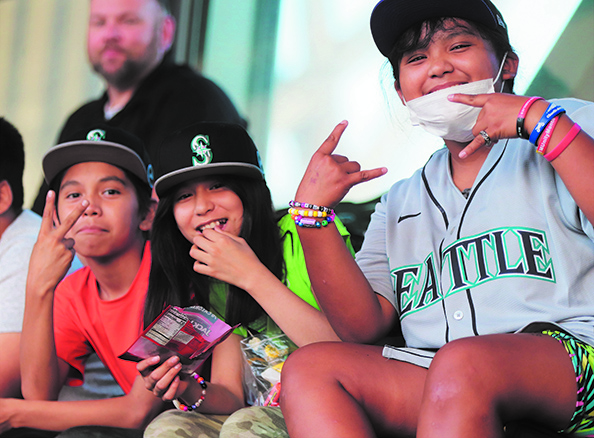 "Being in front of such a huge Mariners crowd and offering them just a sample of what we do as Native people – our songs and dance, our beautiful children in their regalia, and the power of our community – as a Tulalip, I'm just so thankful," he added. "Us old ones remember that long before basketball became the most popular sport on the Rez today, it was baseball that was number one. Previous generations loved baseball because for a long time it was the only sport broadcast on the radio. No internet, no tv, but they had baseball on the radio. Families would huddle around the radio and listen to the games. Hard to imagine today, right?"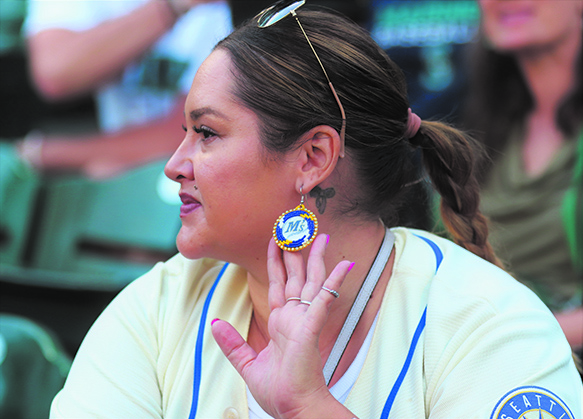 Families huddled around a radio listening to any sports today is hard to imagine. But what's not hard to imagine is just how significant the Mariners yearly tribute to Native Americans is. Look at all images accompanying this article that demonstrate pure pride and joy, full of smiling faces, multi-generations dancing together, and a larger sense of community for what it means to be Native in the Pacific Northwest.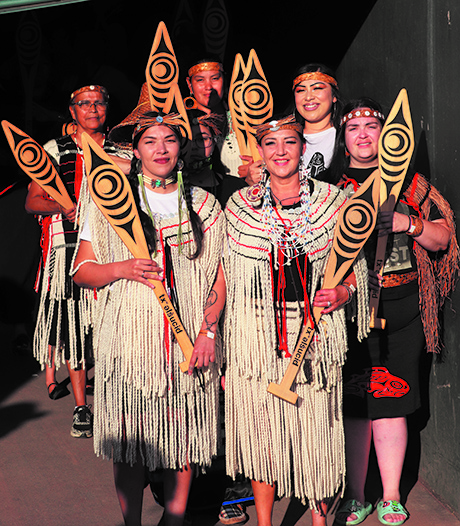 More impressive than the 430-foot bomb hit by third basemen Eugenio Suarez or the 7-strikeout gem pitched by Robbie Ray or even the Mariners 4-2 win over the Nationals, was the stunning display of Coast Salish culture that filled the ball park. Serving as a simple reminder to the tens of thousands in attendance and even more watching at home: we are still here and we are thriving!