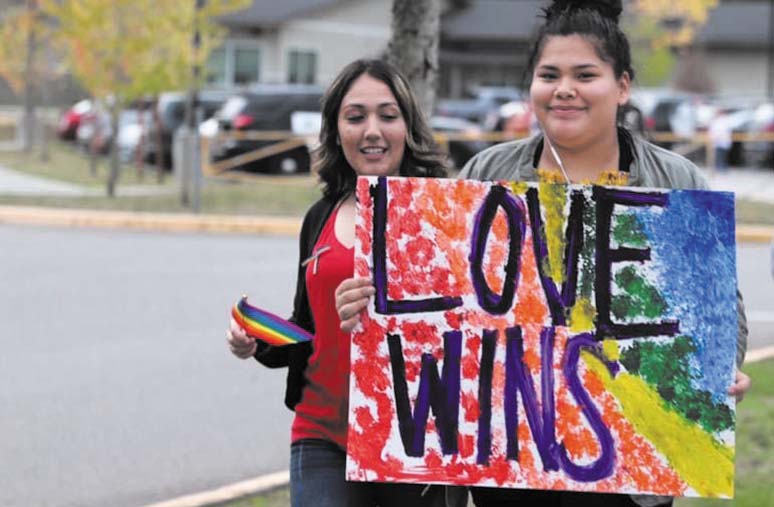 By Kalvin Valdillez, Tulalip News
Sunday August 22, from 12:00 p.m. to 5:00 p.m., mark your schedule as busy because you are not going to want to miss this event! A celebration honoring and embracing our loved ones who identify as a member of the LGTBQ+ community, the first annual Tulalip Pride picnic will be held at the Don Hatch Youth Center and promises nothing but good times, good music, good food and new friendships.
"This is a super important event to bring community awareness to the two-spirit population at Tulalip and the surrounding area," said Problem Gambling Counselor, Robin Johnson. "It's important to make sure they have a voice and that they feel comfortable in our community. We also want to make sure the youth have a place, a space and a voice if they are part of the LGBTQ community. This is the big kick-off event, the first annual picnic. It ought to be a great event and lots of fun."
Over recent years, there hasn't been many LGBTQ+ community events at Tulalip, with the exception of the Tulalip Youth Council's Pride Walk in 2018. That one event, however, displayed an overwhelming show of local support as over 150 Tulalip citizens marched along 27th Ave., with the iconic rainbow-colored flag and 'Love is Love' signs held high above their heads. As leaders of the Tribe's future generations, the Tulalip youth have been calling for more events geared toward supporting two-spirit individuals. Both the Youth and Family Enrichment program and the Youth Wellness program are listed as sponsors and will be involved with the yearly event.
Phoenix Two Spirit (Cree), a well-known member of the Tulalip community, is the self-proclaimed 'instigator' of this project, both presenting the idea as well as helping organize the event.
He stated, "I've been part of the pride celebrations in Seattle and Snohomish County and I have been noticing announcements locally for Puyallup, Muckleshoot and Lummi, who are having pride celebrations. I've been in the Tulalip area for a few years and thought that this a very-needed event. There has been much interest by the Tulalip LGBTQ+ TS community to have an event, but COVID has put a damper on creating one. So, now is the time to bring us together and celebrate our community."
The Tulalip Pride Picnic will feature music from none other than DJ Monie Ordonia as well as several icebreaker games, creating a chance for people to build connections and community while celebrating their true selves.
"It would be wonderful to get community support groups going," expressed Phoenix. "This event is great for community awareness as well. It's part of the decolonization process, recognizing that two-spirit people have been in the Indigenous community since time immemorial and it's time to recognize that, indeed, there is a place for two-spirit people in the tribal community, that they hold a special place. This is not new. This is reclaiming our past."
He continued, "I want everybody to know that everyone is welcome to come. Whether you define yourself in the LGBTQ+ community, the two-spirit community, if you are friends, family, allies or tribal members, I want everyone to feel welcome to come."
The event is sponsored by the Tulalip Problem Gambling Program, the Tulalip Tribes Youth and Family Enrichment program of the Education Division, the Tulalip Family Wellness Court and Tulalip Community Health's Youth Wellness program.