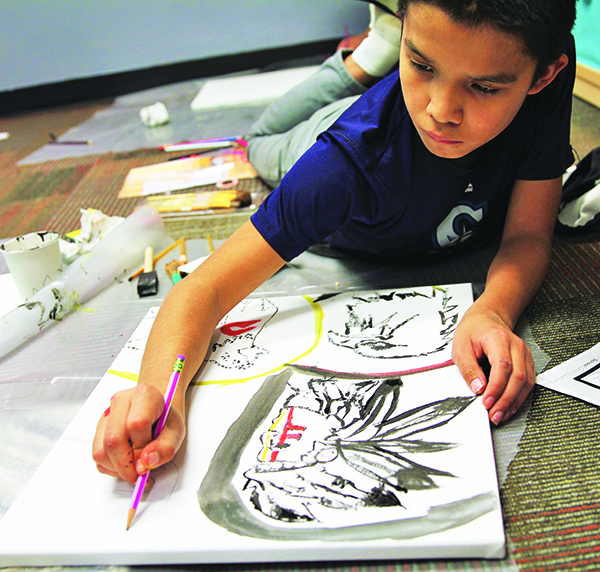 By Micheal Rios, Tulalip News 
In preparation for the C.R.E.A.T.E. Space (Calm Room & Expressive Art to Empower) grand opening event scheduled for Friday, February 9th from 11:30a.m. – 5:00p.m. at the Tulalip Youth Center, an art competition was held to determine which creative minds would paint new spirit into the blank canvas walls of the Youth Center's second floor.
Over forty aspiring muralists from the Marysville School District submitted entries into the competition. The eight deserving winners were selected based on their best representations of local culture, wildlife, waterways, forests, mountains and daily life in our area. The eight artists were contacted and given the opportunity to paint their own 'window scene' that showcases a view from the Tulalip/Marysville area onto the walls that will house the C.R.E.A.T.E. Space.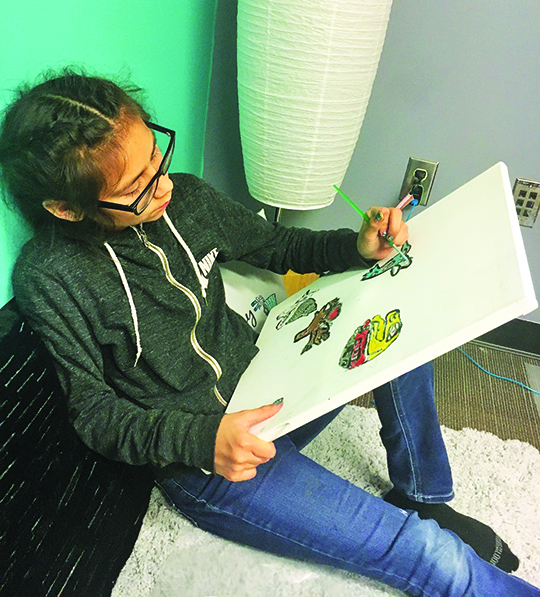 "What we loved best about the submissions we received was the eclectic mix of styles and perspectives each child represented," explained Monica Holmes, C.R.E.A.T.E. Space designer and Parapro for the M.S.P.I. Grant (Methamphetamine Suicide Prevention Initiative) through Behavioral Health and Youth Services
Each muralist used their original artwork as a jumping off point for their wall art or canvas. Prior to painting, Monica led a discussion about art mediums, like the various kinds of art materials and supplies used in artistic creation. Essentially, it's whatever they wanted to use in order to make a mark upon a surface, such as ink, sharpies, colored pencil, pastels, watercolor, chalk or even crayon.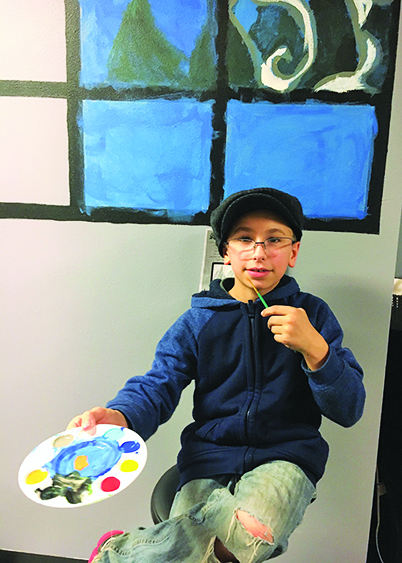 Under the guidance of Monica, the ambitious, young artists also looked at the types of paint brushes and discussed the merits of fan brushes and finer brushes versus large sponge brushes and the best applications for each. Like a scene from The Joy of Painting, the half-hour instructional TV show hosted by afro-sporting painter Bob Ross, the young artists in residence were allowed to let their imaginations run wild with creative inspiration.
After a short tutorial and healthy snack provided by the M.S.P.I. Grant and Youth Services, the eager youth selected their color palettes, artist tools, and set off to sketch their artwork on panels. For those who chose to do a window scene, pre-painted window grids were ready and waiting on the walls of the C.R.E.A.T.E. Space for the fledgling artists to fill with their creative images.
While some students chose a more traditional window scene, others typified a more abstract art style. One young man, J.J. Collins a 5th grader at Quil Ceda Tulalip Elementary, created a scene that took on a unique interpretation of a flowering branch viewed from outside his bedroom window. Rather than a conventional sketch of a tree branch with well-defined flower petals, he turned it into an almost batik styled painting called "The Battle of Light and Dark."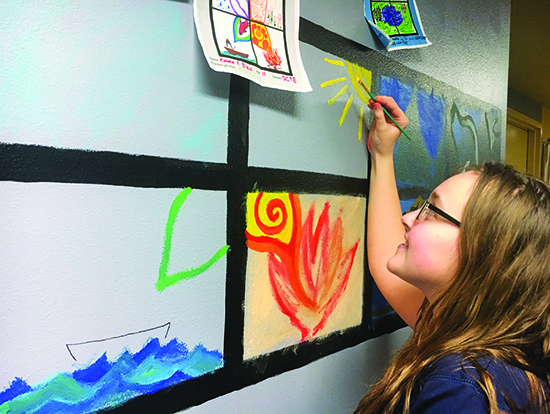 "By utilizing the pure elements of form, color, line, texture, pattern, composition and process, abstract artwork allows artists flexibility and freedom in expressing their world views and inner realities. J.J.'s art definitely struck a chord in our judges and I'm sure his art will do the same for all those who view it," remarked Monica Holmes.
Alongside J.J., several classmates from Ms. Mejia's 5th grade class at Quil Ceda also won the contest. Amos Carpenter, Kane Hatch, KayDee Wilson, Levi Degreave, and Emma B. also turned in stunning samples. KayDee, Kane and Amos drew wildlife in the traditional Salish style, while Levi, Emma, Noelani Cultee (4th grader at Pinewood Elementary) and Dylan Jones-Moses (5th grader at Sunnyside Elementary) created beautiful samples of everyday life and nature.
Dylan, grandson of Don Jones, and a member of the Suquamish tribe, accompanied by several members of his family who rooted him on while he painted, delivered a sweeping panoramic view of Mt. Pilchuck. "I like being outdoors and love animals. This view is of Mt. Pilchuck from my cabin nearby." His mother, overjoyed to find out her son Dylan had won the art contest, said, "We were over the moon and super proud of Dylan for this accomplishment. The picture he drew has a lot of meaning to him. He's an eagle chaser. He loves watching them and has spotted 50 so far."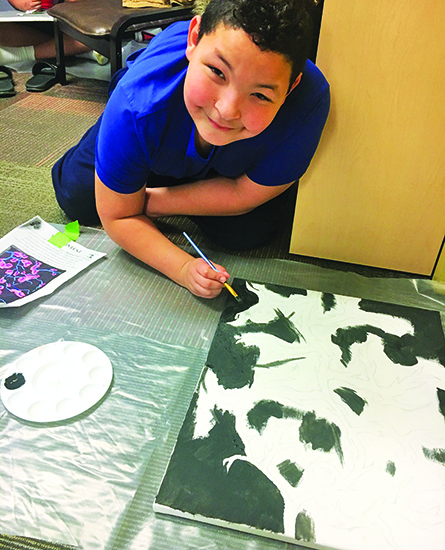 Nadine Foster, grandmother of Amos Carpenter, and Tulalip tribal member, was grateful for the opportunity for her grandchild to show off his artwork. "Many members of our family are artists; his grandpa, my daughter, and various grandchildren. They sit around my dining room table sometimes just creating art." Amos, for his part, was excited to be chosen because, as he stated, "My family is really proud of me. My art has a lot of meaning about the Salish culture and people from here."
Kane, also a Tulalip tribal member, said his art represents "the strength of my Grandma Molly. Even though she was a hummingbird, I drew her as wolf. My family always mentions her and how she would want me to do my art."
KayDee said her "art makes her feel calm when [she's] drawing it and looking at it."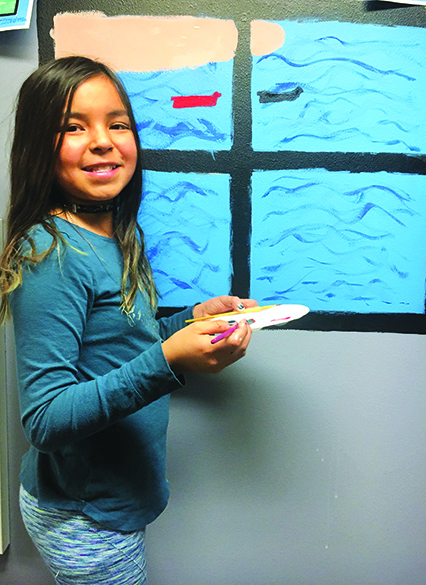 Emma B., a Kainai tribal member from South Dakota, explained her art panels "are the meaning of wild; fire, water, flowers blooming, rain. Fire can be angry, water calming, rain refreshing and the flowers, see how they are growing and spreading out? I'm glad I made my mark here, for others to see."
Tulalip tribal member, Noelani Cultee, reminisced about her artwork being a memory of "what I saw on the beach when I was little. I drew the canoes rowing in an 'S' shape because my mom and dad told me stories about them."
When asked what the symbols in his artwork represented, Levi said that the eagle "shows that Nature is strong. The drummers and people listening in the longhouse have their music go upwards, the background shows the cedar forests and snow in the mountains." Levi would like the caption for his panel to read: "We Are All Together In One Place."
"I couldn't agree more with Levi's caption, which is the purpose and beauty of the C.R.E.A.T.E. Space," added Monica Holmes. "It's a place where youth can be together, creating art to heal, to express what's inside of them, to grow and to learn positive ways to be peaceful within themselves and among others."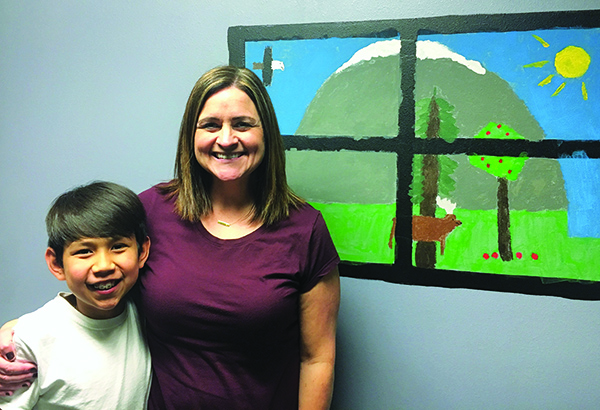 The children's murals will be on permanent display at the C.R.E.A.T.E. Space, offering inspiration and a meditation outlet for any in need. The C.R.E.A.T.E. Space's grand opening is on Friday, February 9th from 11:30a.m. – 5:00p.m., located on the 2nd floor of the Tulalip Youth Center. It'll be open house style for the entire community. All are welcome to attend.